Saturday is movie day! Our top ten so far in no particular order:
Coming to America
The Fifth Element
Joe Versus The Volcano
Lady Hawke
The Princess Bride
Stand By Me
Enemy Mine
Today I am adding:
Forrest Gump
Photo Courtesy:

jonathanrosenbaum.com
This movie is a no brainer top ten. I think Forrest Gump is such a part of popular culture that people forget how good a movie it really is. Funny, moving, full of adventure, inspiration and a little sadness; Forrest Gump is a timeless classic. I have seen it several times, and my children have seen it and we all love it.
Forrest Gump is one of those movies I carry in my heart.
I watched it again recently and it still holds up against any movie put out today.
Photo Courtesy:

theextraordinaryclass.blogspot.com
Photo Courtesy:

runningwithcharlene.blogspot.com
Two words-Tom Hanks. Yea. My favorite male actor of all time. Think about some of his other movies: Big, Turner and Hooch, Philadelphia, Toy Story(s), Saving Private Ryan, Joe Versus The Volcano, The Green Mile, You've Got Mail, A League of Their Own, Apollo 13, The DaVinci Code and Cast Away. I know I am leaving a few out but, wow. I actually watched Busom Buddies and am so glad he got a chance to make all of those great movies. I love that he continues to be involved in making movies and champions important causes.
Photo Courtesy:

listal.com
Can you believe Forrest Gump was made 18 years ago? Shocking.
Photo Courtesy:

lynmidnight.blogspot.com
I read somewhere that Forrest Gump is one of the top five most quoted movies of all time. There are a number of great quotes, here are the one's I remember:
"Run Forrest, Run."
"My Mamma always said life is like a box of chocolates. You never know what you're gonna get."
"I am not a smart man but I know what love it."
"

Mama says they was magic shoes. They could take me anywhere."
"Lieutenant Dan, what are you doing here? "
" I'm here to try out my sea legs."
"But you ain't got no legs, Lieutenant Dan."
"Stupid is as stupid does."
"Oh, yes sir. Bit me right in the buttocks. They said it was a million dollar wound, but the army must keep that money 'cause I still haven't seen a nickel of that million dollars."
"I'm sorry I had to fight in the middle of your Black Panther party."
"My Mama always said you've got to put the past behind you before you can move on."
"Lieutenant Dan got me invested in some kind of fruit company. So then I got a call from him, saying we don't have to worry about money no more. And I said, that's good! One less thing."
" I'll always be your girl."
Photo Courtesy:

jowskireviews.geekjuicemedia.com
There are so many funny moments, so many sweet ones too. Lately what I take from the movie is that each of us has the ability to decide how we handle the challenges in our lives. I want to be like Forrest. I want to take tough moments with a hopeful smile and always remember the proud place I came from. It is something I think about every day.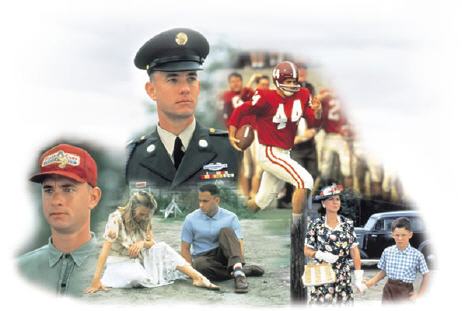 Photo Courtesy:

klemm-site.de



Another cool movie day. Thanks for stopping by.
Have a great rest of the weekend.